Coachella, the greatest North American music festival of our time (that's right Lollapalooza and Woodstock, I said it) did it again this year with an AMAZING LINEUP filled with a mix of relevant bands (e.g. The Black Keys, Swedish House Mafia, M83) and ol' classic acts (e.g. Dr. Dre & Snoop Dogg, Radiohead).
Most importantly however is the inclusion of a few of my favourite bands who have reunited! That's right - Pulp, At the Drive-In, and the almighty Swedish hardcore legends Refused are all scheduled on this year's Coachella lineup.
BTW, At the Drive-In's album "
Relationship of Command
"
is one of the best hardcore punk albums I have ever heard and Refused's album "
The Shape of Punk to Come
"
is THE best hardcore punk album I have ever heard, and one of my favourite albums EVER.
Full lineup and some examples of reunited awesomeness after the break.
Full lineup in all its official glory: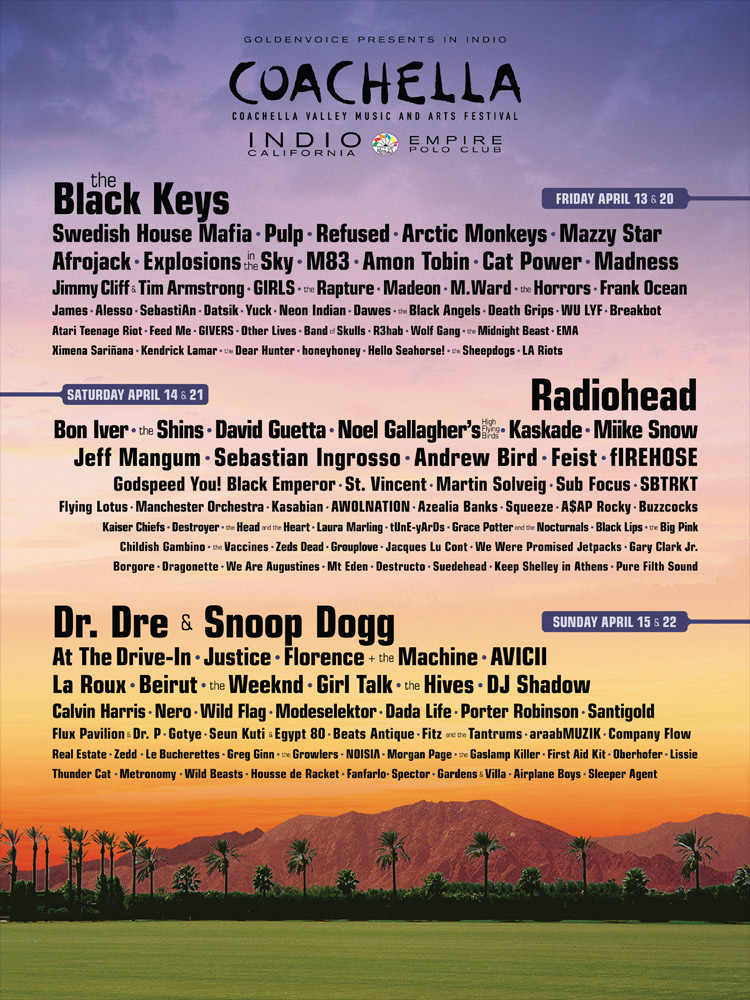 Other notable acts that caught my eye: Arctic Monkeys, Afrojack, AVICII, Calvin Harris, Childish Gambino, David Guetta, Explosions in the Sky, Girl Talk, The Hives, The Horrors, Justice, Kendrick Lamar, M83, Noel Gallagher's High Flying Birds, The Sheepdogs, Sleeper Agent, The Rapture, The Weeknd, WU LYF, Yuck
Many of these bands made my TOP TEN SONGS O' 2011.
Here are some reminders why the reunions of those aforementioned bands are exciting:
"Common People" by Pulp:
"One Armed Scissor" by At the Drive-In:
"Worms of the Senses / Faculties of the Skull" by Refused:
I really wish I could have been there this year.